How Automation can Help Increase your Profitability by Enhancing Order Fulfillment
Consumer purchasing patterns have changed dramatically in 2020/21, with
rapid growth in eCommerce sales
. Many small and medium-sized firms have been compelled to re-evaluate the effectiveness of their order fulfillment process. This can result in a major increase in online orders, with many turning to automated solutions.If your eCommerce company presently depends on manual warehouse management systems to fulfill consumer purchases, you may find it difficult to keep up with the rising demand. Outsourcing your order management to a third-party logistics business that automates order fulfillment with multiple warehouses might be more cost-effective.This blog talks about order fulfillment, the technology needed to automate your order fulfillment process and how it can increase your firm's profitability.
What is Order Process Automation for Ecommerce?
Automated shipping refers to the automation of commercial shipping operations when new orders are placed, including choosing things from inventory, packing boxes, and getting shipments in transit to be delivered on time.Quick order fulfillment will put you ahead of the competition. An automated shipping solution's goal is to put orders that need to be completed in a queue automatically, eliminating part of the human work. It might be as elaborate as using robots, or as basic as adding a layer of software or putting up infrastructure like conveyor belts.
PTL Systems: Essential for Automated Order Fulfilment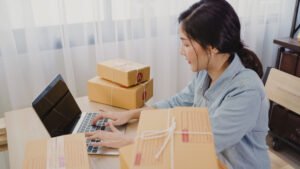 Put-to-Light systems, which use light devices to tell operators to put goods, are an effective automated inventory tracking and sortation method for breaking huge amounts of merchandise into individual client orders. 
Scan and sort
 is a term used to describe the Put-to-Light method. It refers to products that are usually batch chosen in advance and delivered to a put station. Individual items are scanned for bar codes, and lights switch on for any client orders that require the particular product.
This system provides comprehensive stock control through a customized inventory function, catering to different industrial requirements. Software is used to configure and manage the light-directed order fulfilment process. Some of the most popular Put-to-Light software programs are comprehensive order fulfillment execution systems with a wide range of advanced features and choices.Order fulfillment is handled on a regular schedule using logistics management software. It facilitates shipping of the same goods to multiple locations. This makes eCommerce players ideal candidates for adopting these systems in their distribution operations
How Automated Order Fulfillment Through a Warehouse Management System can Increase Profits
Reduced labour and operating costs
A single automated shipping system at a distribution center can replace 15 to 20 manual inspection and package manifestation stations. This will considerably cut labour costs, allowing workers to be reassigned to more valuable supply chain roles and functions. It can also help businesses that are having trouble attracting and hiring suitable workers.An automated shipping system readily interacts with other automation technologies such as automated packing, print and apply labeling, AMRs, automated sortation, and more.
Shipping expenses, which account for a large portion of financial transactions in supply chains, may be significantly reduced using automated shipping solutions through a logistics management software platform. Some of the savings are due to the labour reductions mentioned above, but a substantial portion is due to the fact that automated shipment allows for less dimensional weight fees.This can be performed in a variety of methods, although cartonization is the most typical. Cartonization is the process of employing a warehouse management system to ensure that items are dispatched to multiple locations in the most appropriate package size. It may also do calculations to ensure the cargo passes the dimensional weight calculation test.
One of the most useful characteristics of WMS is its capacity to automatically search for the best shipping rates, an operation that required human intervention. Built-in 
ERP systems
 allow for the lowest possible shipping costs for parcel and LTL shipments by evaluating rates of standalone systems based on shipping service needs and delivery location
Automated WMS compares the current cube and weight of a carton to the predicted cube and the weight of the order. This helps increase order accuracy. If a carton is processed and found to be outside the intended range, it will be redirected to the inventory control team. This can be reprocessed after going through warehouse operations. This means fewer mistakes, fewer refunds, and happy clients.
Warehouse management systems from Inlogsys for automated order fulfilment
Inlogsys
, a pioneer in bringing world-class intralogistics to firms, offers warehouse management systems that automate supply chain operations to a great extent. This ensures excellent inventory management including inventory tracking, inventory replenishment and ensuring inventory accuracy for enhanced profits.
Get in touch
with us to enhance the efficiency of your Warehouse Management System.